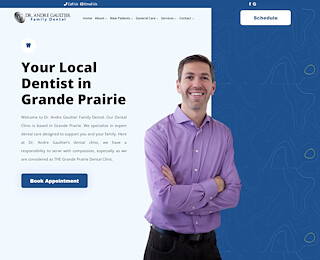 For the best cosmetic dentist in Grande Prairie, visit Dr. Gaultier Family Dentistry. What makes our dental clinic the best choice for cosmetic dentistry in Grande Prairie? Put simply; we provide our patients with the best combination of high-quality dental services and affordable prices. Plus, we offer emergency dental services, and as a family dental clinic, we accept patients of all ages.
A Cosmetic Dentist Can Make Your Teeth Healthier and More Attractive
As we age, many of us succumb to the effects of gravity and nature. Our teeth grow crooked and thin, and they are prone to discoloration, chipping, cracking, breaking, and falling out. Not only is this bad for our oral health and our overall health, but it doesn't help our self-esteem either! Being ashamed of your smile is no way to go through your day-to-day life. A cosmetic dentist at Dr. Gaultier Family Dentistry can give you your smile back.
When you choose Dr. Gaultier Family Dentistry for a cosmetic dentist in Grande Prairie, there is a lot we can do for you. For one; we can restore any lost functionality in your teeth. Whether it's by enhancing your natural teeth, such as with orthodontics, or providing you with a cosmetic solution, such as bridges, veneers, or dental implants; we'll customize a solution for you.
Why Visit a Cosmetic Dentist?
We're not going to cite the numerous studies that have shown how improving the health and appearance of your teeth can make you feel happier and more confident or how it can improve your love life and career opportunities. Instead, we want you to know what we can do for you.
If you have missing teeth or severely damaged teeth, we can replace them at Dr. Gaultier Family Dentistry. We can eliminate gaps in teeth and restore your smile with natural-looking restorations. We have a variety of products that can be used to enhance your smile, complimenting each budget. Sometimes, just cleaning a person's teeth who hasn't had their teeth professionally cleaned in years can improve the appearance of the teeth by night and day. We'll scrape your teeth to the gum line, removing any plaque buildup, and we can apply bleaching agents safely to whiten the teeth while protecting the rest of the mouth.
Contact Dr. Gaultier Family Dentistry
We can also reshape your teeth and straighten your crooked or misaligned teeth. This may involve the use of orthodontics, but it might also include other techniques. If your teeth are straight but misshapen, then we have ways to make them look nice again. The one thing that we pride ourselves in is offering options to our clients.
If you would like to see a cosmetic dentist in Grande Prairie, Dr. Gaultier Family Dentistry is now accepting new patients. We invite you to call us and schedule your first appointment. We'll provide a consultation and examination, letting you know what condition your teeth and mouth are in.
Cosmetic dentist grande prairie