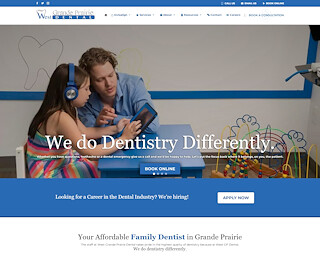 Having a missing or broken tooth will only make you lose that beautiful smile. You'll begin to feel ashamed and less confident in public due to the hole in your mouth. How long will this continue to go on?
No particular reason should make you feel content with a decayed or missing tooth. Dental implants in Grande Prairie offers you a way out of your misery.
What is a dental implant?
A dental implant refers to an artificial tooth designed to be a part of your teeth permanently. Provided the dental implant is placed accurately, your new implant will look exactly like your existing teeth. Unless you tell someone, no one will be able to distinguish between the implants and your natural teeth.
West Grande Prairie Dental for Your Dental Implants in Grande Prairie
In case you are looking for a certified dentist to take charge of everything involved in your dental implant procedure, look no further than West Grande Prairie Dental. Our qualified dentists are the perfect fit to get the job done. Over the years, we have been recognized to offer outstanding oral health care services and dental implant procedure to patients in Grande Prairie, and the entire Alberta area.
At West Grande Prairie Dental, we are dedicated to providing excellent dental implant procedure that will help each and every one of our patients get back their appealing smile and self-confidence. Our dental professionals are capable or replacing single tooth, multiple teeth, or your entire dentition. You can be rest assured that an exact match will be used to replace your lost tooth.
Our Dental Implant Procedure
The dental implant procedure offered at West Grande Prairie Dental involves placing a titanium post in your jawbone. Our dental implants in Grande Prairie is carried out through a process known as Osseointegration. This helps to keep a strong and firm bond between the dental implant and the adjacent bone.
Our team of reliable and competent dental experts will utilize cutting-edge dental equipment and advanced techniques to fix the dental implant. Once the procedure is completed, your new implants will look and function just like your natural teeth.
Outstanding Dental Implants Procedure in Grande Prairie
West Grande Prairie Dental offers a fast, effective, and reliable way to restore the look and function of your teeth. Unlike many other traditional teeth replacement methods, our dental implants in Grande Prairie are very stable and reliable. The implants will not move along your gum line, neither will they slip out of space.
Furthermore, our oral health care services are highly affordable and can be tailored to your dental needs. Anytime you will like to restore the lost glory of your teeth, and our dental implant procedure is the right way to go. Be rest assured of getting an outstanding result.
Contact Us Today!
For more information about our dental implants in Grande Prairie, contact us today at West Grande Prairie Dental. Our professional dentists will be available to discuss your options with you. We guarantee you excellent oral health care services and a successful dental implant procedure.
Dental Implants Grande Prairie
West GP Dental
(780) 833-8600
11502 Westgate Drive # 106 Grande Prairie, AB T8V 4E9
View Larger Map
We welcome your comments!