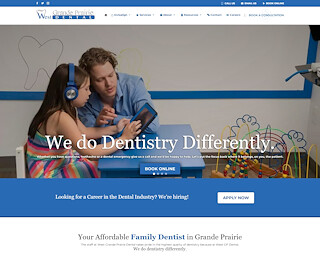 Our staff at West Grande Prairie Dental hopes that you never need the services of an emergency dentist, however, if you do, it's comforting to know that we'll be there for you. We believe in treating our patients like our own family, striving to provide the highest quality dental care to every patient who walks through our doors.
One of the most common questions we receive in our practice is regarding dental emergencies. Patients often ask us how they can be sure whether the situation they're dealing with is an actual dental emergency. The answer to that question is not complicated- if it hurts, it's a real emergency, no matter what the circumstances are.
Dental emergencies can come about quickly, making it essential to differentiate between an urgent situation and one that can wait until regular office hours. If you've experienced an injury to a tooth, multiple teeth, or to the soft tissue inside or around your mouth, you should call us immediately and make arrangements to get in to see our emergency dentist in Grande Prairie. We'll provide you with advice over the phone for how to reduce pain and swelling while you're in route to our office.
A toothache can be considered an emergency situation as well. Try rinsing your mouth with warm salt water if your toothache is mild and you feel that you may be able to wait for an appointment to see a dentist. If the pain is intense, call our office, and we'll let our staff know that you're on your way in for an office visit.
There's no question that you're dealing with a dental emergency if you have a chipped, cracked, or broken tooth. Teeth that are jagged or sharp should be carefully guarded while waiting to be seen by a dentist as they can quickly cut soft mouth tissue. A knocked out tooth should be placed back in the tooth socket or held inside of the mouth between the guns and cheek until you're able to see your dentist. Timely dental care may save the tooth.
Always err on the side of caution if you're uncertain whether your situation is an emergency. Any delay in dental care when the time is of the essence can result in costly, extensive restorations that perhaps could have been reduced through quick, efficient dental care.
If you need to see an emergency dentist in Grande Prairie, we invite you to call us at 780-833-8600. Describe your situation to us as best as you can and listen to the advice we prescribe over the phone. Don't worry- we already know that dental emergencies can arise at the most inopportune times, and we schedule our day in such a way that we can accommodate dental crises when they occur.
We can often see emergency patients within an hour or two of receiving their call, so please do not hesitate to get in touch with us if you're dealing with any dental situation that is stressful, confusing, or uncomfortable for you. We're just a phone call away.
Emergency Dentist Grande Prairie
West GP Dental
(780) 833-8600
11502 Westgate Drive # 106 Grande Prairie, AB T8V 4E9
View Larger Map
We welcome your comments!