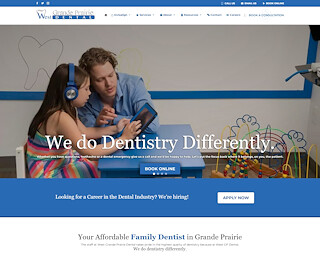 When you need the services of an emergency dentist in Grande Prairie, call the dental clinic that takes time out of their daily schedule to treat patients experiencing emergency dental issues. West Grande Prairie Dental understands emergencies can happen any time of the day or night. We'll prioritize getting you in to see our emergency dentist when you call us at 780-833-8600.
Emergency Dentist Grande Prairie
West GP Dental
(780) 833-8600
11502 Westgate Drive # 106 Grande Prairie, AB T8V 4E9
View Larger Map
We welcome your comments!
Proudly serving Grande Prairie, Clairmont, Sexsmith, Valleyview, Wembley, Beaverlodge, Elmsworth, Grovedale and all areas around Grande Prairie for Family Dentistry, Emergency Dentistry, Dental Implants, Sedation Dentistry, Orthodontic Services, Invisalign, Wisdom Tooth Extractions and many more dental services.