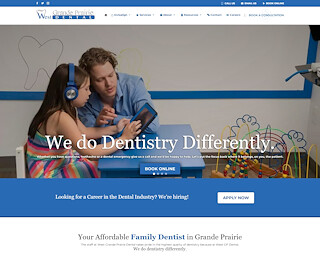 When searching for a new dental practice, it's essential to choose a Grande Prairie dental clinic that provides a range of services that meets the needs of your family. After all, taking the time to get to know the staff at a dental office and then getting a referral to a specialist can result in needless anxiety. You'll save aggravation by taking a few minutes and looking into the services offered by your prospective dentist.
West Grande Prairie Dental is committed to providing a wide range of services to meet the needs of every member of your family, from children to seniors and everyone in between. See our 'Services' section to learn more about why we are considered a reliable Grande Prairie dental clinic.
We believe in making it easy for our patients to access critical information regarding their treatments, which is why we have created our 'Patient Resources' section on our website. There, you'll find post-extraction instructions, pediatric instructions, implant placement instructions, post root canal information, and answers to our most commonly received questions.
If you don't find the information you're looking for on our website, feel free to call our office to speak with our staff. If you're feeling anxious about having dental work performed, you should know that our office offers sedation to ensure your complete comfort throughout your entire procedure. Call us to discuss options in sedation or let us know when you come in for an appointment that you're interested in being sedated.
We receive many requests from our patients for information on the Invisalign system, most often referred to as the virtually invisible way to straighten teeth. Patients of all ages prefer Invisalign over traditional metal braces for several reasons. Top of the list includes the fact that Invisalign's aligners are removable for up to two hours per day! Of course, the fact that they're transparent and nearly imperceptible makes them a popular choice as well.
For Routine cleanings and semi-annual dental care, there's no better Grande Prairie dental clinic to visit. Our staff is dedicated to the newest techniques and technologies through continuing education efforts and a commitment to providing the very best dental care in our community. If you'd like to schedule a new patient appointment for a cleaning, give us a call or book your appointment online.
We're pleased to tell our patients that we can perform root canal therapy right in our office without having to refer you to a third-party practitioner. That's a big plus for a lot of our patients who have already built a strong doctor-patient relationship with our dentist and would prefer not to have a stranger working on their teeth.
As a full-service Grande Prairie dental clinic, our practice offers cosmetic and restorative dental care to create beautiful new smiles and great first impressions. Discuss your goals with our staff by scheduling a consultation. We'll listen to your goals and make recommendations based on our assessment of your teeth.
Grande Prairie Dental Clinic
West GP Dental
(780) 833-8600
11502 Westgate Drive # 106 Grande Prairie, AB T8V 4E9
View Larger Map
We welcome your comments!