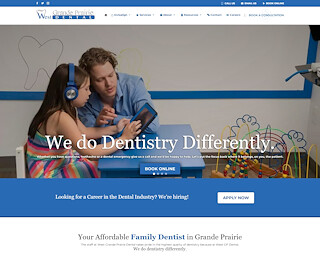 Your teeth are important to your appearance and when they start to look dingy or yellow you can consider teeth whitening in Grande Prairie. Your enamel is part of your permanent teeth and over time it can become discolored. This strong covering can begin to take on a dirty appearance and it may also start to show stains.
Professional Teeth Whitening in Grande Prairie
Professional teeth whitening in Grande Prairie is a great way to improve the look of your smile and restore your self confidence. You won't need to hide your mouth anymore when you smile or laugh because you won't be ashamed of your teeth. There are two ways to achieve a whiter and brighter smile from your dentist. You may choose in-office teeth whitening or take-home teeth whitening.
The in-office teeth whitening process is done at the dentist's office. The dentist applies professional-strength whitening gel to your teeth which is activated by a strong light. The process takes under an hour and you can lighten your teeth up to 8 shades. After the treatment you may be provided with a kit that you can use at home to touch up your teeth. Some patients may require more than one treatment to achieve the level of whiteness that they prefer.
Some patients may prefer to use an at-home whitening kit. A professional whitening kit from your dentist uses much stronger products than simple over-the-counter kits. The dentist will fit you with a custom tray that you will use for whitening. You will apply a whitening product and use the trays so that the product will remain close to your teeth during treatment.
Improve Your Smile with Help from Your Dentist
Professional teeth whitening in Grande Prairie begins with a visit to the dentist. The dentist will evaluate your teeth and discuss whitening options. It is important to know that it may take several treatments to whiten your teeth to the color that you prefer. Each time the dentist performs a whitening procedure you can expect to achieve a lighter color.
A home-whitening kit is a very convenient option for busy people. One of the important aspects of an at-home kit is that the dentist will custom-fit the trays to your teeth. This makes the process much more effective than using other types of whitening kits.
Teeth-whitening is a pain-free process that can be used by just about anyone who wants to improve the look of their teeth. In just an hour you will already begin to see a change in the appearance of your teeth as you bring them to the brightness that you like. With the help of your dentist you can create a beautiful smile that you will be proud to show.
When you want to whiten your teeth the first step is to schedule a consultation with the dentist. Your dentist will make sure that your teeth are ready for whitening and will recommend the options that are available. Contact West GP Dental today to schedule an appointment.
Teeth Whitening Grande Prairie
West GP Dental
(780) 833-8600
11502 Westgate Drive # 106 Grande Prairie, AB T8V 4E9
View Larger Map
We welcome your comments!