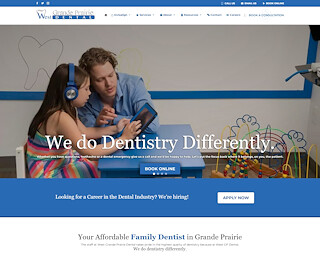 High-Quality And Value-For-Money Veneers in Grande Prairie 
A great set of teeth can go miles. That is why it is essential to take care of our oral health, including our pearly whites. One way to achieve that perfect smile is through veneers. Thankfully, most dental clinics offer veneers in Grand Prairie and all over the world.
What are Veneers?
A veneer is a type of dental cosmetic treatment that helps improve a person's stained, chipped, or gapped teeth. It is a "thin piece of porcelain used to recreate the natural look of teeth, while also providing strength and resilience comparable to natural tooth enamel," as defined by the American Academy of Cosmetic Dentistry (AACD). 
Veneers are often used to close tooth gaps or realign crooked teeth, as well as for aesthetic purposes. It is considered a permanent treatment. Once you decide to put veneers on your teeth, there's no turning back. 
Typically, porcelain is used as a veneer material, although some use composite resin. Veneers in Grand Prairie or elsewhere can cost around $800 to $2,000 per tooth, depending on which state you reside. It may be quite an exorbitant cost for teeth enhancement, but veneers can last up to 20 years, depending on how you take care of your teeth. 
Early Beginnings
Veneers were said to be first used during the late 1920s by Dr. Charles Pincus. Dr. Pincus, then a well-known Hollywood dentist, used the early version of veneers to enhance the actors' and actresses' smiles when on screen. Since then, veneers developed into what is known of today – lifelike and convenient --and became more accessible even to non-Hollywood people as well.
Benefits of Veneers
For one, veneers can make your teeth look healthy, natural, and bright. The procedure will only require minimal to no preparation at all. Veneers are usually very thin porcelain layers that are held in place using a specialized adhesive; thus, the procedure is non-invasive. 
Veneer Procedure
Veneers in Grand Prairie would require only one to two appointments to complete the procedure, depending on the availability of the veneer. Local anesthesia may not be necessary, although some do due to tooth sensitivity. 
The dentist will first clean the tooth and determine the right shade for the veneer, and then remove a tiny amount of enamel from the tooth to accommodate the veneer.
The tooth will then undergo impression, and a temporary veneer will be placed on the tooth. Once the permanent veneer is already available, the temporary veneer will be removed, the tooth and the permanent veneer will be prepared for fitting, light-curing, and attachment. 
The dentist will then advise you to practice proper oral care, such as regular tooth brushing, flossing, and using non-abrasive fluoride toothpaste. It is also advisable to limit consumption teeth-staining beverages such as tea or coffee. 
When Veneers are Not Advisable
People with healthy teeth and gums are good candidates for veneers in Grand Prairie or elsewhere. On the contrary, patients with oral health problems such as tooth decay, root canal infections, or those who suffer from bruxism (excessive teeth grinding) are not advised to have veneers, unless completely treated by a dentist. 
If you are looking for veneers in Grand Prairie, West Grand Prairie Dental is the one to call. To book an appointment, call (780) 833-8600.
Veneers Grande Prairie
West GP Dental
(780) 833-8600
11502 Westgate Drive # 106 Grande Prairie, AB T8V 4E9
View Larger Map
We welcome your comments!